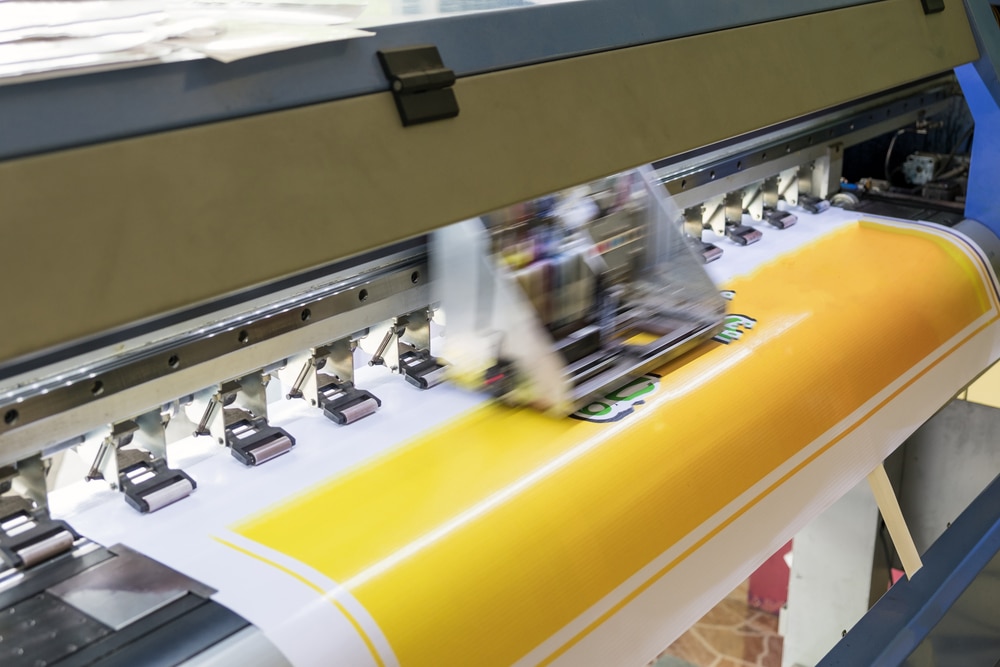 Boost Brand Visibility with Wide-Format Printing
Here are three things that printed marketing collateral does:
Physical, printed items are more 'real' to the brain; they engage better with memory.
Physical, printed material needs more emotional processing, which is essential for the retention of brand associations.
Physical, printed marketing efforts produce greater feelings of 'desire' due to the target market being able to see, feel, and touch them.
Using Wide-Format Printing to Boost Brand Visibility
The age-old debate of digital versus print is far from over. Explore the benefits of wide-format printing for your business.
Increase Brand Recognition
There's a saying you have probably heard, "A picture is worth a thousand words."
Never has a truer word been spoken when it comes to wide-format printing, which takes your picture from mediocre desktop print to amazing large printouts.
Think of how appealing an image of people enjoying your services or products would be to a potential client? Especially if this image is created by a professional, quality printer specifically for your audience.
There is no doubt that wide-format printing will improve your brand visibility. This is a no-fail way to get your brand noticed by creating a mental and emotional reaction in your potential customers, as they can more easily recognize your brand due to the presence it has.
Large, high-quality prints are a great way to catch the consumer's eye. With the use of the right colors, mood, and branding your wide-format printing can create great quality campaigns.
Increase the Visual Distance
When using wide-format printing in your marketing campaign, you're able to create incredible, aesthetically-pleasing campaigns that will include some of your best branding and graphics.
Visually speaking, large scale printing will catch the eye from a distance. Visualize yourself walking down a busy street, on the left is a Mexican restaurant, on the right, is an Italian restaurant.
The Mexican restaurant is beautifully decorated, quaint, with a nice chalkboard out front with the specials. The Italian restaurant has bright-colored, full-scale window prints, as well as a tall A-frame board in the Italian colors standing.
Which one caught your eye?
Your brand becomes legible from a far distance; potential customers will be able to make decisions based on how far away your business caught their attention. Think of a bright advert on social media, something flashy, you stopped to read it, right?
Large-format printing has the exact same effect. It can take your brand to the next level. It will allow you to capture your audience's attention, hold it, and potentially lead to more business.
Great for Retail
If the business you own is a retail store, then wide-format printing can have an immediate impression on the potential customers who walk through your door.
Not only will the first impression be a good one, but it will last too. Wide-format printing done properly can create a stylish, uniform, and professional look throughout your store.
Think of large aisle label that help your customer easily navigate their way around the store. Hanging signage that is readily readable from a distance can also point your customer towards your promotions and queueing systems easily.
Wide-format printing in a retail space can also tie your brand together from the front of your store to the back, and everywhere in between. Match your posters to your logo colors, on sale promotional boards can be made to match your brand throughout your space.
The more you remind your customers of where they are, the more likely they are to not only to return but become loyal to the brand.
Some of the large-format printing items that can work in retail are:
Hanging signage
Display arches

Sale bins
Aisle fins and signs
Point of sale display units
Floor /ceiling vinyl graphics
Vehicle wrapping
Promotional units for tasting
Complete Versatility
The absolute best part of wide-format printing is its complete versatility. Large scale printing is easily adaptable to all sorts of marketing materials. You can move between posters and banners, to stickers and window decals in the blink of an eye.
Once you have a list of deliverables, speak to your print shop and see how they can adjust your current wide-format prints to fit in with the items you'd like to include in your integrated campaign. A professional print shop will be able to get your business noticed by using their wide-format printing across different mediums.
Other Benefits of Wide-Format Printing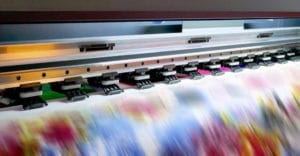 The world is your oyster when it comes to wide-format printing. Including the above benefits, there are further advantages that can aid your business internally.
Faster Turnaround Time
With a wide-format printer, you're virtually able to print on demand. Which means that your business can benefit from faster turnaround times when ordering your printed marketing materials.
Imagine you decide to have a last minute sale next week, with little to no time to plan; a wide-format printer will be able to deliver high-quality prints at the drop of a hat, eliminating long waiting periods.
Ability to Cross Industries
One of the greatest things about wide-format printing is that it is not only viable for one industry, or even two. Wide-format printing can be used within absolutely any industry.
This is great if you're doing a potential collaboration, are you sponsoring a local football team? Or perhaps you're hosting an event at a different location to your head office? Wide-format printing can help you move your brand around, easily, while keeping the integrity of your brand intact.
Lower Costs
These days, wide-format printing is very affordable. Gone are the days where business couldn't afford to print large scale. With a few extra sales, your business can afford to implement a campaign for your exterior signage or retail space.
If you budget accurately, you'll no doubt be able to regularly update your wide-format printing and keep your brand fresh.
Wide-Format Printing Is a No-Brainer
So when it comes down to it, can you really afford not to be using wide-format printing as part of your marketing efforts?
With the increased visual aspect, brand recognition, and other benefits we've mentioned, there's no question that it should be part of how you market your business.
Are you preparing for a trade show? Wide-format printing can even take your exhibition stand from zero to hero with our trade show tips!