Providing Reliable Print and Mail Solutions for Over 30 Years
The newest equipment for the best results coming soon to Action Mailing
Comprehensive Direct Mail Marketing Solutions
Action Mailing & Printing Solutions is your partner in direct mail marketing and printing solutions. With over 30 years in the industry, we have been handling the proofing, printing, and production of large-scale printing projects of various businesses. Our team oversees each stage of the process, ensuring quality deliverables and promptness.
Each print material passes through our design experts, allowing you to receive flawless copies. If you want to add unique finishing touches to your corporate mailing materials, our production services handle all of the label creation and assembly of complex pieces. If your goal is to stand out, consider it done.
We also provide the data management services — address databases, mailing lists, response analysis — needed to effectively run your campaigns.
Turnaround time is fast, and customer service is top-notch. Whatever you need for your direct mail marketing strategy, we will deliver. Get in touch today for mail and print services.
About Action Mailing & Printing Solutions
Founded in 1989, Action Mailing & Printing Solutions combines first-hand knowledge with high-tech expertise to produce results for its customers. Among the largest mailing vendors in the United States, Action Mailing & Printing Solutions has experienced a continued growth rate thanks to a committed staff and the success of our wide range of customers. We approach each client's job with the intensity needed to match the most demanding schedules.
Over the years, we have invested in high-quality equipment and streamlined operations to answer to our clients' needs. Today, we're proud to be the go-to company for printing and high-tech mailing services.
Action Mailing and Printing Solutions has built their success with honesty and great customer service. Applying family business values to every daily task and project has been their foundation. Each client receives the individual attention they deserve — no job is too big or too small. As Action Mailing & Printing Solutions grows, this team continues to stress attention to detail, hard work and dedication. These values serve as a solid foundation upon which our company stands, and they will continue to govern our actions and decisions as we diversify our portfolio and help more businesses grow.
The Speedmaster XL 75 press is here!
With the highest level of automation in its class, our newest press delivers top efficiency and maximum productivity. The lowerable non-stop system ensures uninterrupted production through automated job changing so we can now seamlessly move between projects.
With the ability to produce 15,000 sheets per hour, the Speedmaster XL 75 (also known as the Heidelberg XL 75-8-P-C) can quickly crank out high-quality print projects with unmatched accuracy!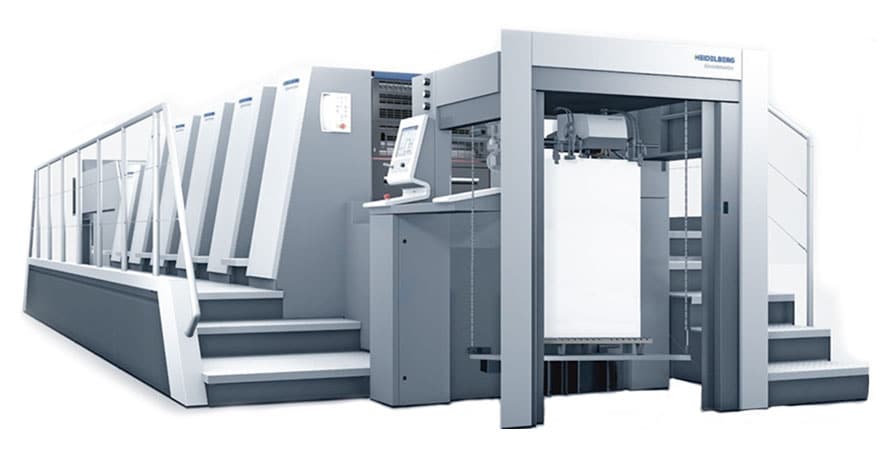 To put it simply, Action Mailing is a partner to us, not a vendor. Our working relationship has always been a two-way street – when we have questions, there is always a quick and honest answer, but even more importantly, when we don't have questions, there are still suggestions coming from Action on how to be more effective and efficient in our direct mailing efforts.
The people at Action Mailing have been wonderful to work with. I appreciate their thoughtfulness in developing work schedules for all of our projects, as well as their flexibility when the editorial process defies the schedule a bit. I believe that this great working relationship, along with the consistency and quality of their work, have made Action Mailing integral to the ongoing success of the Kansas City Symphony's direct mail fundraising efforts.