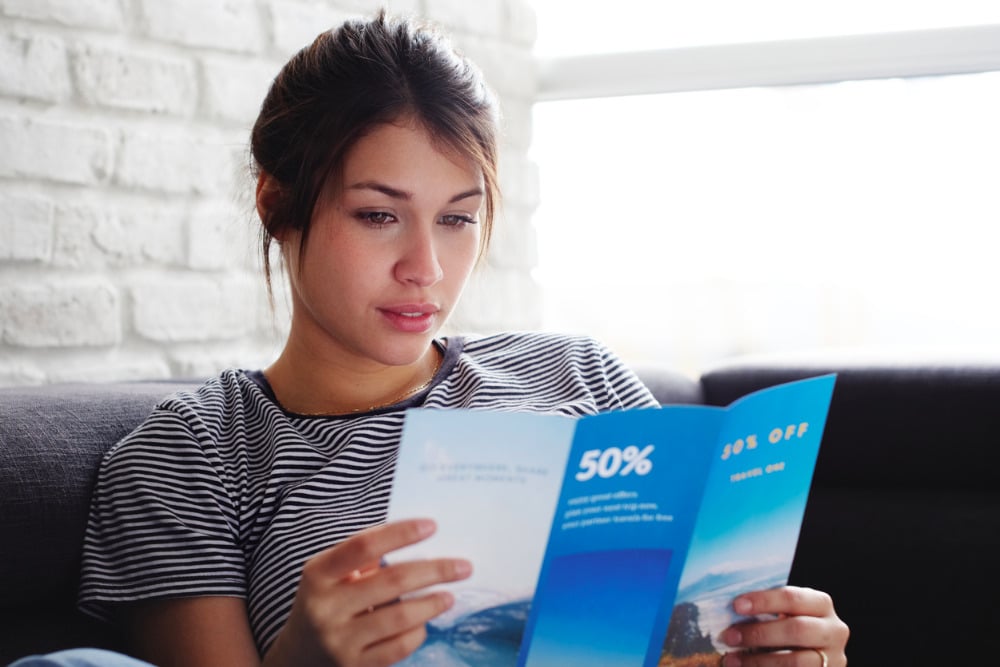 A Guide to Print Marketing Materials: Benefits, Examples and More
In the business world, there are many different marketing approaches that will need to be tailored to a company's unique goals and brand. However, there are certain things that apply to more or less every business out there, and that will remain relevant across industries.
The most universal feature among all businesses is the need to market effectively – as marketing is ultimately the art of drawing your prospective customers' attention to the product or service you are offering, and convincing them that it will be in their interest to purchase from you and enjoy the benefits that your product or service can provide.
These days, marketing has largely gone digital and printed marketing materials that were once the mainstay of many successful companies has now very much been put on the backburner.
Recommended Read: Direct Mail Marketing Statistics That Prove It Works
With that being said, many businesses are rediscovering the benefits of utilizing printed marketing materials because well…not as many companies are sending things to prospects, providing brochures, or sending out newsletters.
Here's a closer look.
What Exactly Are "Marketing Materials?" (A Quick Rundown)

First and foremost,"marketing materials" are tools used to convey your brand vision and the potential benefits of your services, to your customers.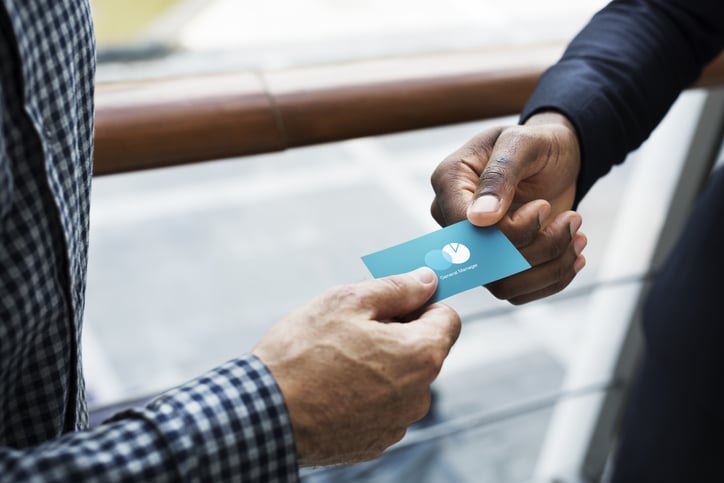 In a digital setting, "marketing materials" can be things like website landing pages, a template used for sending cold emails, a newsletter or mailing list sent via email, ad banners, and so on.
In the world of physical in-person marketing, "marketing materials" become much more tangible, and are comprised of things like cool business cards, one-page sales slicks, physical brochures and newsletters, posters, banners, and signage.
Marketing is often considered to be a pretty daunting process – especially for smaller enterprises focused on growth.
While there certainly are many intricacies and nuances to the process of effective marketing, the fundamentals are pretty straightforward. You need to convey a strong brand identity, clear message, and outline the benefits (not just features) that a prospective customer can expect to enjoy as a result of utilizing your services.
At the same time, you have to be able to use the right type of marketing materials to grab and maintain the attention of the people you're trying to reach.
Benefits of Utilizing Printed Marketing Materials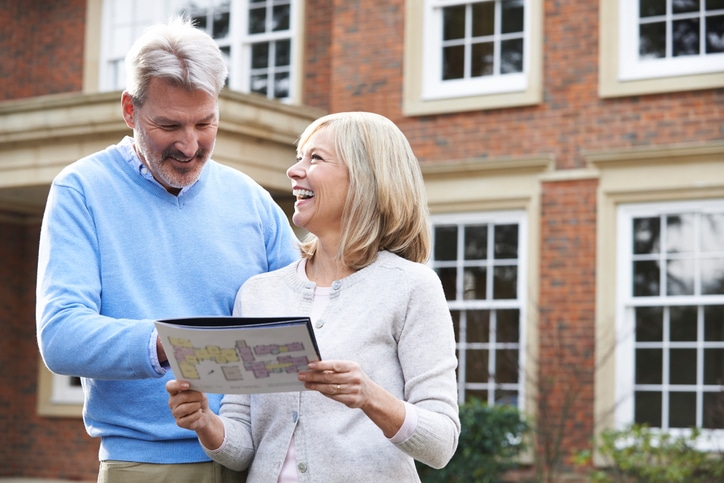 Printed market materials are potentially even more useful and effective now than they were in their heyday during the pre-digital age.
Here are just a few of the benefits of using printed marketing materials.
1. Printed Marketing Materials can be Rediscovered

The thing about digital marketing materials – and all forms of digital correspondence, for that matter – is that it's remarkably easy to completely overlook and forget about them, and delete them without so much as a moment's thought.
Printed marketing materials are a different story. The fact that they take up real, physical space, means that – as long as they aren't thrown away – there's a good chance that they will be put away somewhere and rediscovered days, weeks, or months down the line.
If your printed marketing materials are compelling enough and seem worth holding onto, you can be reasonably confident that they have a better chance of "resurfacing" than an old marketing email or digital newsletter will.
How many of us ever really delve through the thousands of emails in our inboxes after those emails have been sitting unread for a month or a year?
Things like brochures, business cards, and one-sheets are a different story. They may sit on a desk for a long time underneath a pile of papers only to pop back up when that stack of papers is reshuffled. Or, they may get put away in a filing cabinet for later reference.
In both the personal and business space, people are often distracted and preoccupied with the concerns of the present moment. Often, marketing materials can become significantly more effective when it's had the chance to sit around for a while and be rediscovered when there is a little downtime.
2. Advertising Outside of the Digital Space Attracts Attention
As we have stated, the vast majority of contemporary marketing is done through digital channels – whether in the form of webpages, emails, website banners, etc.
That's all well and good – and there are certainly benefits to these sorts of approaches – but the sheer fact that digital marketing is now ubiquitous means that it is less trustworthy and impactful.
Printed marketing materials are not anywhere near as prevalent as that used to be – and one consequence of this is that when someone actually does receive a well-composed and informative brochure at a trade show or networking event, that piece is likely to make a more significant impression.
Recommended Read: Marketing Materials to Have Printed Before Your Next Trade Show
In the same vein, sending a physical letter of introduction to prospective customers through the mail automatically differentiates you from the multitudes of other companies who will likely be reaching out exclusively through digital channels.
As a general rule of thumb, the less common an approach is, the more memorable it will be, and the more attention it will grab.
Even the savviest digital marketing campaign will tend to register less with prospective customers, in an ecosystem that is completely saturated.
3. The Pieces can be Passed On to Others

If you create truly unique and interesting printed marketing materials, they will very often be passed around an office or between friends and family members.
The immediate effect of this is that your printed marketing materials will naturally tend to be viewed by more sets of eyes than something like a static marketing email would – and, clearly, this substantially increases the chance that someone who actually is interested in using your services now knows who you are.
4. You Can't Scroll Past Print Marketing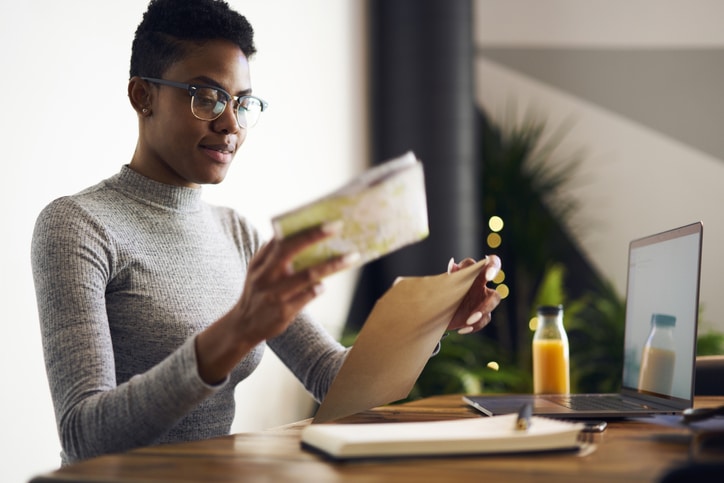 Digital marketing efforts do not take up any physical space – you never have to physically "encounter" a marketing email, a LinkedIn message, or any other form of digital "material" over the course of your everyday life.
Printed materials, however, do take up physical space in a literal, direct, and visceral way.
While there is always the possibility that they will be thrown out or recycled, there is also a good chance that they will remain somewhere in the person's mind, on their desk, or in their home.
Someone who puts your business card on their desk next to their computer, for example, will frequently be reminded of it just by passively glancing around. If they want to pass it on to someone else or to (unfortunately) dispose of it, they will have to physically pick it up and move it in order to do so.
At the very least, this means that printed marketing materials are nowhere near as easy to forget about as digital ones. And, of course, gaining the attention of a prospective customer, and staying fresh in their memory, is a major part of the overall "battle" of marketing effectively.
Examples of Printed Marketing Materials (and some suggestions)
There are a number of different types of printed marketing materials that you could utilize. Choosing the right ones depend on the nature of your marketing campaign, and of your business.
Here are some examples of printed marketing materials that you will probably want to use.
Unique Business Cards
Business cards – if well done and unique – can help you stick in someone's mind.
Anyone who comes across your booth at a trade show, receives a package from you in the mail, or that you meet on the street and strike up a conversation with is ripe for also receiving a business card.
Unique and professional business cards leave a lasting impression. A good one is space-efficient and easy to slip into a wallet. We suggest making your business cards unique by making small changes like rounding the edges, making your card a different shape completely, or using unique finishes and raised fonts to stand out.
Note: Make sure your business card includes concise contact information for your company, ideally including a link to a well-crafted web landing page.
Envelopes
A unique, branded envelope can help to begin the marketing process before a prospective client or customer has even read your letter.
To grab more attention, use a large envelope format, and go for an unusual and unique script. You can even choose to send your materials in envelopes that have a unique color or texture.
Brochures
Brochures are a classic piece of marketing and have been used for decades because they don't take up a lot of space when folded and you can pack them full of awesome copy and images.
Your brochures should always compliment your brand design, and you should take advantage of different brochure types to properly speak to different target audiences and showcase different products and services.
Make sure your brochures have strong visual elements, and to include appropriate calls to action.
Tips for Creating Effective Print Marketing Materials
Here are a few tips for creating effective print marketing materials.
Dare to personalize
Simply by virtue of using printed marketing materials in the first place, you are automatically attempting to stand out and reach your audience in a more intimate way. So, don't be coy about it. Personalize your materials by adding a person's name and make full use of catchy slogans, attention-grabbing graphics, unusual fonts, and more.
Add a timely promotional offer
Using your printed materials to advertise a limited time promotional offer – perhaps with a QR code to scan or a web link to visit – is an excellent way of making the printed material feel more "exclusive," while also introducing a call to action that is likely to get a quick follow-up.
Have your graphics designed professionally
If you're going to take the time to dream up print marketing materials in the first place, you should by no means cut corners when it comes to the quality of your graphic displays.
Hire a professional graphic designer, and ensure that your materials really grab the eye and convey a sense of professionalism.
Research your target audience in advance
Different target audiences require different marketing approaches. Research your target audience in advance, and tailor your printed materials accordingly. Keep in mind that, unlike with many digital marketing materials, it's much harder to "adjust" faulty printed materials down the line.
Put systems in place to track metrics
It's always beneficial to be able to track metrics and to see how much engagement a particular campaign of yours has actually generated.
For printed marketing materials, this can be achieved by things such as unique web landing pages and tracked phone numbers so that you can directly see how many impressions have been made.
So, what are you waiting for? Let's start printing some awesome marketing materials today!